By Malcolm Scott at Bloomberg
China's economic conditions deteriorated across the board in the fourth quarter, according to a private survey from a New York-based research group that contrasted with recent official indicators that signaled some stabilization in the country's slowdown.
National sales revenue, volumes, output, prices, profits, hiring, borrowing, and capital expenditure were all weaker than the prior three months, according to the fourth-quarter China Beige Book, published by CBB International. The indicator is modeled on the survey compiled by the Federal Reserve on the U.S. economy, and was first published in 2012.
The world's second-largest economy lacks the kind of comprehensive data available on developed nations, making it harder for investors to get a clear read -- particularly as China transitions from reliance on manufacturing and investment toward services and consumption. Official data on industrial production, retail sales and fixed-asset investment all exceeded forecasts for November, while consumer inflation perked up and a slide in imports moderated.
Earnings Deterioration
The Beige Book's profit reading is "particularly disturbing," with the share of firms reporting earnings gains slipping to the lowest level recorded, CBB President Leland Miller wrote in the release. While retail and real estate held up reasonably well, manufacturing and services performed poorly, with revenues, employment, capital expenditure and profits weakening.
The survey shows "pervasive weakness," Miller wrote in the report. "The popular rush to find a successful manufacturing-to-services transition will have to be put on hold for a bit. Only the part about struggling manufacturing held true."
After efforts including six interest-rate cuts since late 2014 failed to revive growth, policy makers are switching focus to fix problems like overcapacity on the supply side. President Xi Jinping -- seeking to keep growth at a minimum 6.5 percent a year through 2020 -- is juggling short-term stimulus with long-term prescriptions to avoid the middle-income trap that has ensnared developing nations after bouts of rapid growth before they became wealthy.
China's leaders convene their annual economic work meeting Friday, according to the People's Daily. Officials typically set the growth target for the coming year at the conference, which lasts a few days.
In contrast to the gloomy Beige Book report, data Friday showed China's home-pricerecovery spread to more smaller cities in November, after Chinese authorities rolled out easing measures targeting regions with a surplus of unsold homes. New-home prices increased in 33 cities among the 70 cities tracked by the government, compared with 27 in October, the National Bureau of Statistics said.
Survey Description
The Beige Book report was based on surveys of more than 2,100 firms across China and interviews with bankers, managers and executives. CBB began the series in mid-2012, when its inaugural survey indicated a pick-up in growth from early that year, a forecast later borne out.
Geographically, the three most high-profile regions performed the worst, with Shanghai's "dismal" showing outpacing Guangdong's and Beijing's. Every region weakened on-quarter except for the Center and West, the report showed.
"More concerning than overall growth weakness was degradation of two components of the economy that were previously overlooked as sources of strength: the labor market and the impact of inflation," Miller wrote. Given growth in input prices and sales prices slipped to record-lows while firm performance metrics fell, "it looked like firms were encountering genuinely harmful deflation," he wrote.
If labor market weakness persists, policy makers in Beijing will feel "increasing pressure" to ramp up the policy response, according to the report.
With official indicators picking up in November, Bloomberg's monthly China gross domestic product tracker rose to a 6.85 percent estimated growth pace for the month, the best reading since June. Shares have rebounded, with the Shanghai Composite Index climbing 4.2 percent this week. The benchmark equity gauge has rallied 22 percent since tumbling to the low of the year in August.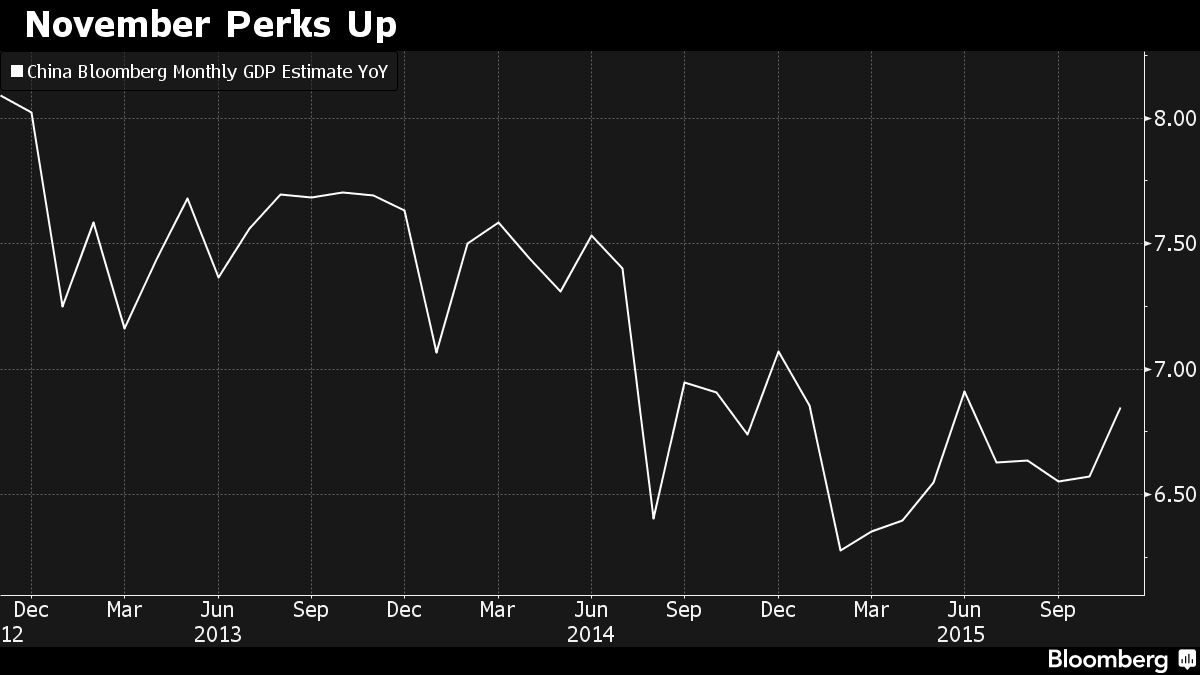 In a worrying sign for the effectiveness of monetary easing to date, the share of companies borrowing declined to a record low, the survey showed.
"The interest of firms in both borrowing and spending continues to decline, suggesting it's past time the 'stimulus mafia' rethinks its Pavlovian responses," Miller wrote. "Reform or bust."
Source: China Beige Book Shows 'Disturbing' Economic Deterioration - Bloomberg