by Justina Lee at Bloomberg
The offshore yuan headed for its biggest weekly decline since March amid speculation the authorities are guiding the currency lower as economic growth slows.
The offshore yuan slid 0.2 percent to 6.5944 as of 5:50 p.m. in Hong Kong, taking its loss for the week to 0.8 percent. The onshore Chinese currency fell 1 percent against a trade-weighted basket Monday through Wednesday, reaching the lowest level since October 2014, before a two-day holiday in the nation halted trading.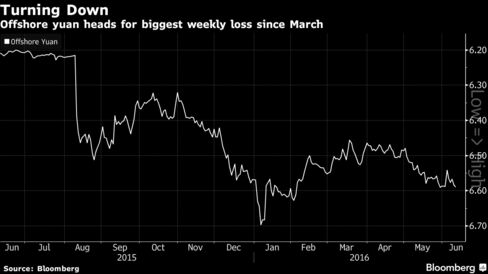 The People's Bank of China set its daily fixings at weaker-than-expected levels this week as the greenback dropped. While foreign reserves remained resilient in May, a record 243 percent surge in China's shipments from Hong Kong suggest outflows are continuing via the over-invoicing of imports, according to Scotiabank, Natixis SA and Royal Bank of Canada.
"Depreciating pressure on the yuan remains," said Gao Qi, a foreign-exchange strategist at Scotiabank in Hong Kong. The offshore yuan's weakness is due to "onshore dollar-bidding interest and higher-than-expected dollar-yuan fixings," he added.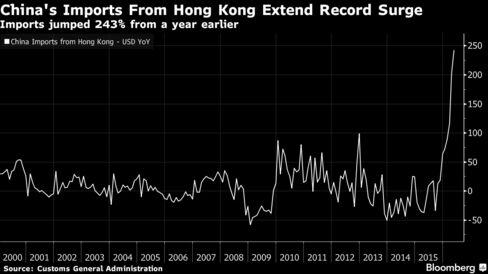 Source: Offshore Yuan Poised for Biggest Weekly Decline in Three Months - Bloomberg