by Yuji Nakamura, Toshiro Hasegawa, and Anna Kitanaka at Bloomberg
Global investors are pulling money out of Japan's equity market at the fastest pace since at least 2004, according to Mizuho Securities Co.
Foreigners last week sold a net 1.85 trillion yen ($15.4 billion) of Japanese stocks and equity index futures, the biggest combined outflow since Mizuho began tracking the data more than a decade ago, said Yutaka Miura, a Tokyo-based senior technical analyst at the brokerage. Investors are fleeing amid concern about China's economic outlook and the prospect of higher interest rates in the U.S., he said.
"This is a result of investors dumping global risk assets," said Miura. "Japanese stocks have performed well since the start of the year, so similar to what's happening in Europe, we're seeing people take profits."
The Topix index is down 13 percent from its Aug. 10 high, paring its 2015 advance to 4.8 percent. The nation's shares are among the world's worst performers since China unexpectedly devalued the yuan last month, roiling markets worldwide and intensifying concern about the outlook for Japan's biggest trading partner.
Foreigners dumped 1.43 trillion yen of Japanese equities in the three weeks through Aug. 28, Tokyo Stock Exchange data updated Thursday show. That's the most for any three-week span on record, overtaking the period when Bear Stearns Cos. collapsed in 2008.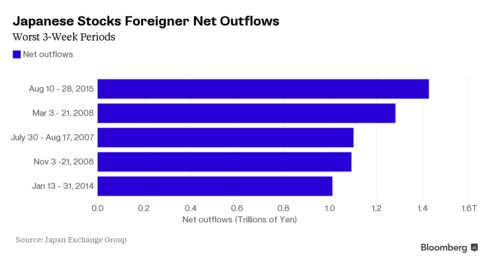 Net stock sales totaled 707 billion yen last week, and investors also reduced positions in index futures by 1.14 trillion yen, exchange data show. Cumulative flows for 2015 are still positive, with foreigners buying a net 1.1 trillion yen of equities through last week.
Andrew Clarke, director of trading at Hong Kong brokerage Mirabaud Asia Ltd., said investors who needed to reduce positions in Asia and couldn't offload stocks in China because of share suspensions turned to Tokyo instead.
"The sell-off started in China," Clarke said. "Investors couldn't sell there in the end so selling spread to Asia, and Japan especially as it has a greater liquidity. This eventually spread to Europe and the U.S."
Source: Foreigners Flee Japan Stocks at Fastest Pace Since at Least 2004 - Bloomberg Business