by Bloomberg News
China is stepping up stimulus by stealth in its efforts to ensure hitting the leadership's growth target this year, with moves that will enhance the role of the state even as policy makers say they want a bigger role for the market.
The fiscal deficit when taking off-budget spending into account will exceed 10 percent of gross domestic product this year -- more than triple the government's stated ratio of 3 percent, according to economists at UBS Group AG and JPMorgan Chase & Co.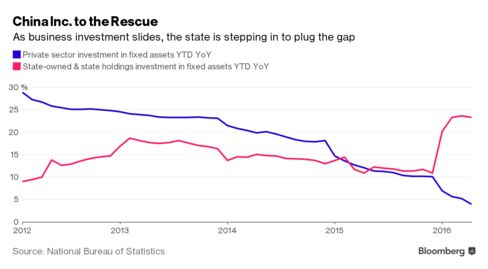 Beyond the official budget that allocates spending on defense, welfare and other day-to-day expenses, China's Communist leaders are pumping money into the $10 trillion-plus economy. Part of that is through opening the funding tap to China's three so-called policy banks, which are tasked with investing in government-backed projects. Much of the rest is through the actions of local governments, through the following methods:
Increasing issuance of bonds to fund construction projects
Deploying rising revenue from land sales as the property market recovers
Investing in public-private partnership projects spanning garbage treatment plants to holiday resorts
Using interest savings reaped from a central-government orchestrated debt swap converting expensive bank loans into bonds
The upshot: while President Xi Jinping has championed giving the invisible hand of markets more sway, the reverse is happening as the economy becomes even more reliant on the state. The Finance Ministry didn't respond to a faxed request for comment on the private economists' estimates of deficits exceeding official totals.
Hemmed in by tepid global demand and business reluctance to add to a corporate debt load that's already swollen to 165 percent of GDP, Xi is deploying the government's firepower to keep alive his growth goal for this year of at least 6.5 percent.
"Why would the private sector be willing to borrow? They are already heavily in debt," said UBS Chief China Economist Wang Tao. "To stabilize growth, the government needs to boost infrastructure construction. Only the state will invest when there's no money to be made."
Debt Ratio
UBS estimates that the augmented fiscal deficit, which includes quasi-fiscal measures, exceeded 10 percent of GDP in 2015, with the government set to add 1.5 to 2 percentage points on top of that this year. The nation's total debt-to-GDP ratio will reach 280 percent as a result, according to Wang.
JPMorgan analysts led by Zhu Haibin forecast the ratio will be 10.1 percent this year and possibly higher, up from 9.7 percent in 2015.
The latest shot of state support is a variation on a theme seen in the wake of the global financial crisis and ensuing global recession. Then, Xi and Premier Li Keqiang's predecessors unleashed a massive spending splurge that saw state-owned banks lend to local-government financing vehicles for infrastructure and building projects across the nation.
The current fiscal injection comes as a monetary-easing cycle that started in late 2014 shows mixed results. While businesses remain reticent to expand, households have shown an appetite for more debt, with new mortgage loans rising to a record last month. But that property boost may already be fading, putting the onus back on the government to support demand.
Sheng Songcheng, head of the statistics and analysis department of the People's Bank of China, wrote in a research paper this year that China can afford more fiscal spending in coming years without causing immediate debt-related risks. He predicted government debt would stay safely below 70 percent of GDP by 2025, even if the official fiscal deficit ratio jumps to as high as 4 percent for several years.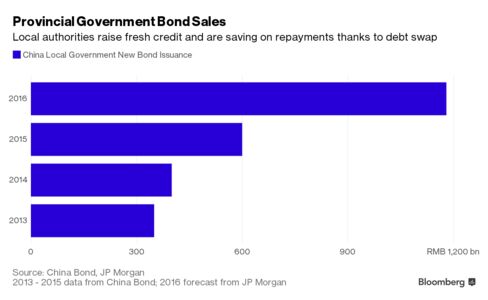 The government's efforts to clear a glut of unsold homes is also gaining traction this year, pushing up new-home prices in larger economic hubs and second-tier cities, and spilling over to land sales revenue for local governments.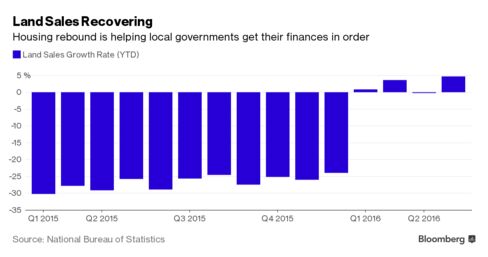 The key to deriving longer-term benefits from the public sector's largess will depend on "whether the government can push forward economic reforms and improve productivity," said Liu Liu, an economist at China International Capital Corp. in Beijing.
Wang at UBS says the state support is unlikely to spur a revival in private investment, which requires reform measures such as lowering the barriers for entry into service industries and encouraging consumption. That makes it imperative the fiscal priming is accompanied by policies to boost productivity and expansion in the private sector.
"Policies to support short-term growth and those to reform the economy in the long run don't always work in the same direction," Wang said. "But now it's necessary to do the two at the same time."
Source: Stealth China Stimulus Means Fiscal Gap Over 10%, Economists Say - Bloomberg