By Yuki Nakamura & Toshiro Hasegawa at Bloomberg
Japanese stock investors trying to escape from bear territory may want to prepare for a long and painful road back.
Since the Nikkei 225 Stock Average tumbled more than 20 percent from a peak last month, Japanese equities have made several attempts at rallies, only to falter as the market gets swept along in a global selloff spurred by tumbling oil prices. Even optimism over central bank stimulus -- a frequent rescuer of stocks during the bull market -- has failed to spark a sustained rally.
History supports the view that the recovery will take time. Wiping out a bear market takes seven and a half months on average, according to an analysis of the index's 14 occurrences since 1989. Worse, shares tend to fall further after the initial 20 percent drop -- the Nikkei has slid an additional 18 percent on average, according to the data that include steep selloffs in the early 1990s, the Asian financial crisis, the dot-com bubble and the global financial crisis.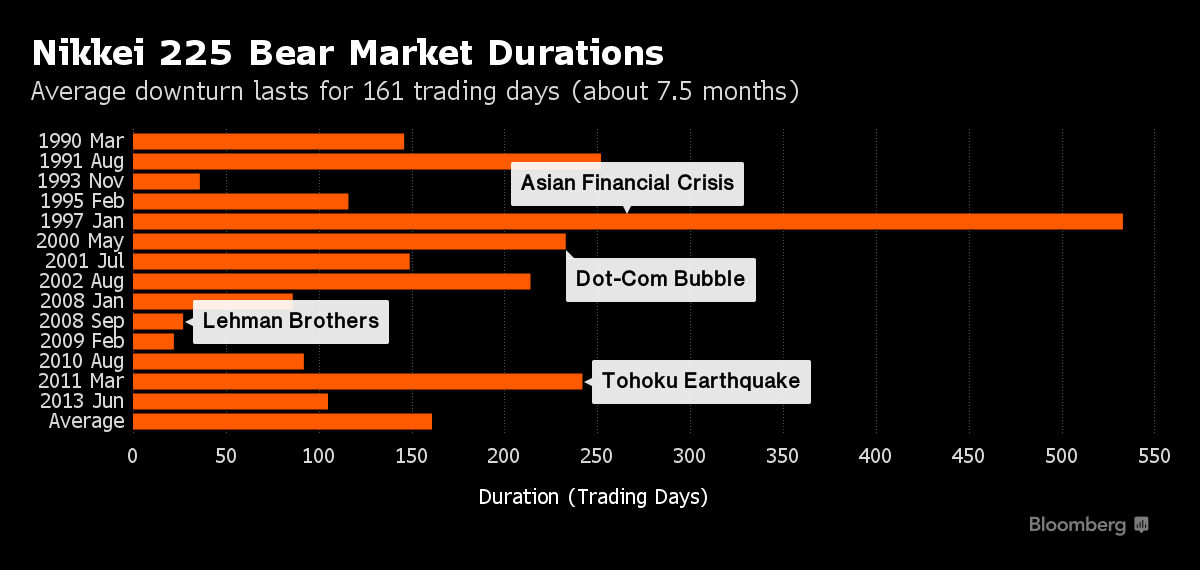 "What's worrying is that stocks aren't reacting to stimulus from the Bank of Japan and the European Central Bank," said Tetsuo Seshimo, a portfolio manager at Saison Asset Management Co. in Tokyo who helps oversee $989 million. "Until recently, even if something bad happens, central banks could always rescue us with more easing. But as we're not seeing that anymore, it may be a sign that authorities can't keep pushing on that string. We have to consider the prospect that the current bear market will last a long time."
While each down market is unique and there are cases where stocks have pulled out of their funk in as little as a few weeks, the analysis spotlights how hard it can be to restore investor confidence once it sours enough to trigger a bear market -- especially when global markets are also sinking.
Investors got a taste of the difficulties this week. An almost 5 percent rally in the Nikkei 225 following last week's surprise decision by the BOJ to add stimulus melted away as investors used it as a selling or shorting opportunity and concerns over the global economy took root again. The Nikkei slid 1.3 percent on Friday, bringing its weekly loss to 4 percent.
Beyond Control
The current market rout has been spurred by conditions beyond Japan's control, namely the uncertainty around Beijing's economy and the plunge in oil prices. China wasn't a factor during many of the previous downturns, clocking double-digit growth for much of that period. Crude's plunge is actually beneficial to Japan's economy -- which relies on imports for most of its energy needs -- but the drag on oil-producing nations and companies hasn't spared Japanese stocks.
The volatility in January "was not fundamentally justified, but volatility is bad because if it lasts too long and if it is extreme, it can damage sentiment globally and I think that's what happened," said Mikio Kumada, a Hong Kong-based global strategist at LGT Capital Partners. "So now we need the central banks or some other economic news to surprise positively in order to reverse that."
161 Trading Days
The average length for the 14 bear markets in the Nikkei 225 since 1989 is 161 trading days, according to the Bloomberg data. The survey's data marks the end of a bear market when the index climbs 20 percent from the lowest point of the cycle. If the current rout were to follow the average pattern, the Nikkei 225 would bottom at 13,473 and end the bear market on Sept. 8.
The longest downturn began on Jan. 9, 1997, as a sales tax hike in Japan triggered a recession and the collapse of the Thai baht helped spark the Asian financial crisis. It lasted for 533 trading days until March 1999, when tech stocks began a rally that resulted in the dot-com bubble. That burst a year later, triggering a bear market that lasted 233 trading days.
Even a fast bounce back can be painful. Take the one that began in September 2008 after Lehman Brothers Holdings Inc. collapsed. It lasted just 27 trading days, yet was particularly steep, with the Nikkei 225 sliding as much as 38 percent further after the initial 20 percent plunge. It staged a brief bull market, only to relapse again a few months later.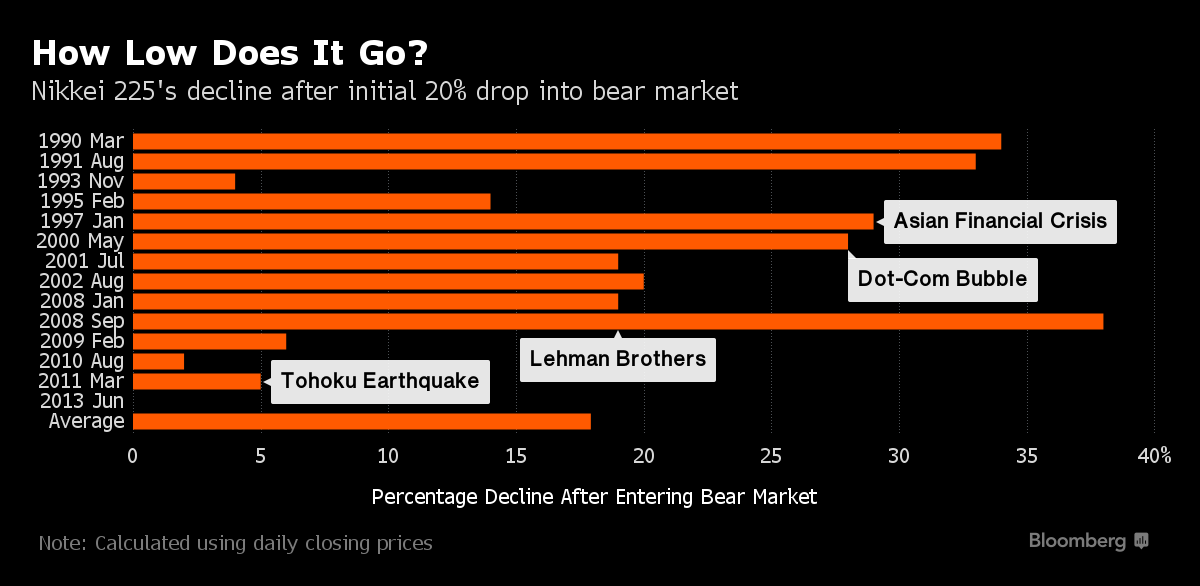 Downturns in recent years have been less extreme than during the 1990s, with the six instances over the past decade falling an average 12 percent after entering a bear market. They were also shorter in duration, lasting just 95 trading days on average.
Optimists may also find comfort that the shallowest bear market occurred during Prime Minister Shinzo Abe's regime. The day shares fell below the 20 percent threshold on June 13, 2013, also marked the ultimate bottom of that downturn.
Still, such resilience may be difficult to repeat as Abe enters the fourth year of his reign. His most effective lever to date -- weakening the yen through the Bank of Japan -- is seeing diminished returns in the markets after each round of stimulus. With Beijing's economy and crude prices showing little promise of a turnaround, the prospects for a quick rebound are dimming.
"In the aftermath of the selloff in oil and China, all major markets technically look a lot worse -- they made new cyclical lows, the technical picture has certainly weakened," said LGT Capital's Kumada. "That's not a good sign."
Fading Hopes
Hope that the start of the earnings season may shift the focus back to Japan's relatively strong fundamentals hasn't been enough to ignite a rally. Stocks fell further on Friday, as weak U.S. economic data sent the greenback tumbling against the yen, while disappointing earnings at carmakers weighed on sentiment.
"Earning results so far haven't been too scary or worse than estimates," said Yoshito Sakakibara, an economist at JPMorgan Chase & Co.'s asset-management unit in Tokyo. "But given we have oil, China and now a more vulnerable U.S. economy controlling sentiment, it's hard to comfortably take risk. Even if earnings don't disappoint, given the current situation, it's hard to take that as good news."
Source: Japan's Bear Market Digs In as Stock Pessimists Crash BOJ Party - Bloomberg