By Anna-Louise Jackson & Dakin Campbell
The 2016 financial stock rout worsened Tuesday as the country's biggest investment banks plunged almost 5 percent amid a gathering storm of economic and financial threats.
Goldman Sachs Group Inc. sank the most since November 2012 to lead the Dow Jones Industrial Average to a 295-point loss, while Citigroup Inc., Bank of America Corp. and Morgan Stanley slid 4.7 percent or more. The KBW Bank Index declined 3.2 percent to extend its bear-market plunge since July to 23 percent.
Tuesday's losses worsened the second-biggest share decline to start a year in two decades for American financial stocks and followed similar losses in Europe after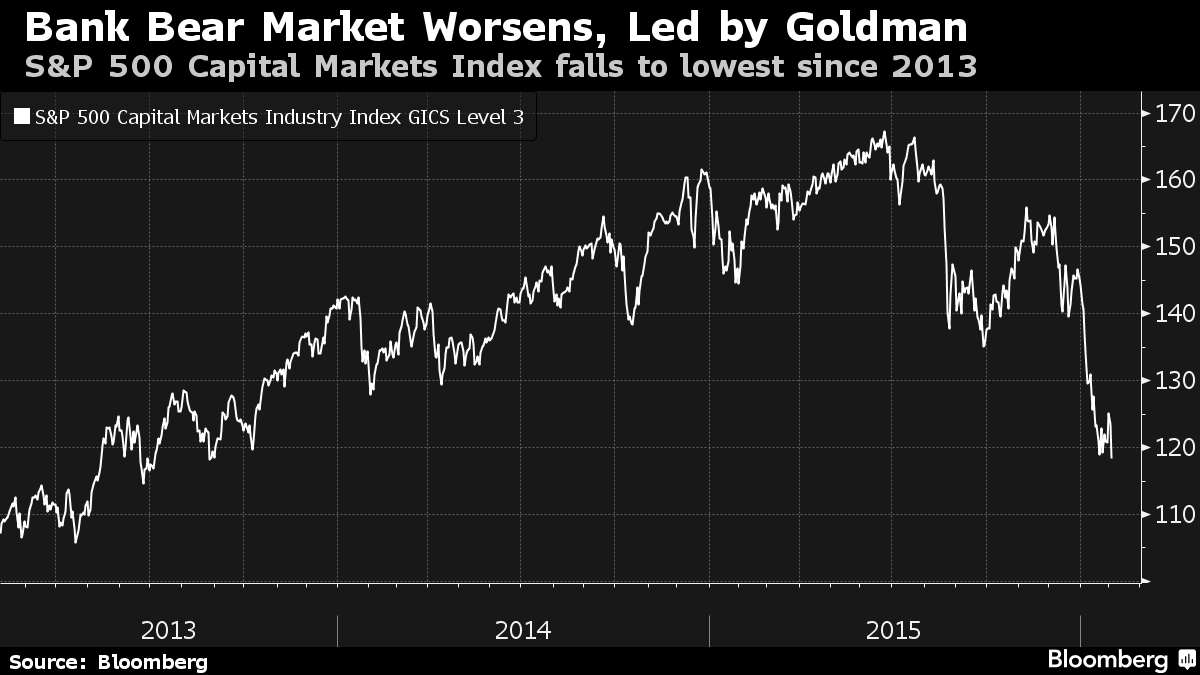 UBS Group AG earnings at the wealth management and investment-banking businesses slumped in the fourth quarter. Concerns ranging from falling interest rates to China and investor disaffection amid increasingly volatile markets spurred the retreat.
"Concerns about problems in the energy sector and a slowdown in the Chinese economy are leading to fears of a global recession," Jim Sinegal, an equity analyst at Morningstar Inc., wrote in an e-mail. "As a result, bank stocks are getting hit hard as investors factor in higher credit losses, slower growth, lower capital markets activity, and a continued low-interest rate environment."
All but eight companies in the 90-member Standard & Poor's 500 Financials Index slipped as the gauge flirted with a two-year low, while the S&P 500 Capital Markets Index tumbled 4.2 percent to levels last seen in August 2013. All 14 members of the latter group declined. The losses came as the 10-year Treasury yield fell below 1.86 percent for the first time since April, while a pair of Federal Reserve financial stress indexes reached the highest since December 2011.
The gap between the two-year and 10-year Treasury yields shrank to its smallest since January 2008. At the same time, predictions for 10-year yields are being cut as U.S. economic data falls short of expectations, potentially curbing further Fed increases. The year-end weighted average forecast in a Bloomberg survey has fallen to 2.69 percent, from about 3.2 percent six months ago.
"The mere thought that rate hikes won't happen has caused investors to sell banks," said Mike Mayo, an analyst at CLSA Ltd. "The regulators spent the last eight years helping to make banks less risky," he said. "But still, on a day like today, they're not perceived as less risky."
Plunging energy prices posed another headwind as market speculation focused on the 19 percent of the Bloomberg High Yield Index made up of energy bonds. Oil capped its biggest two-day drop since March 2009 before government data forecast to show U.S. crude stockpiles expanded, exacerbating a global glut. Futures fell below $30 a barrel in New York after a 5.5 percent slide.
Oil has lost 19 percent this year amid volatility in global markets. Royal Dutch Shell Plc had its debt rating cut to the lowest since Standard & Poor's began coverage in 1990, while Sanford C. Bernstein & Co. warned investors in Asian producers to prepare for a wave of writedowns.
"The yield curve still isn't cooperating on both up and down days, and oil having two rough days has put the market back in a nervous mode, which is obviously not good for investment banking," said Jesse Lubarsky, a financial-stocks trader at Raymond James & Associates Inc. in New York.
Selling in financial stocks has gone well past banks in 2016. Discount brokerages Charles Schwab Corp., E*Trade Financial Corp. and TD Ameritrade Holding Corp. have each lost about a quarter of their value this year. Fund firms Franklin Resources Inc., Waddell & Reed Financial Inc. and Legg Mason Inc. are nursing losses ranging from 12 percent to 28 percent.
Financials were the most-favored group among large-cap managers as of Oct. 31, according to data from Goldman Sachs Group Inc. An exchange-traded fund tracking the stocks attracted the second-highest cash flows in the month leading up to the rate liftoff.
"All of this is coming together to create a capitulation trade," said Charles Peabody, an analyst at Portales Partners LLC in New York. "The investment community came in overweight bank stocks coming into the year largely on the idea that Fed rate hikes would create a positive earnings catalyst," Peabody said. "What they're quickly learning is the Fed's ability to raise rates is limited."
Source: Bank Bear Market Gets Worse as Goldman, Citi Sell Off Again - Bloomberg