By Agnieszka De Sousa & Jesse Riseborough at Bloomberg
Anglo American Plc led a slump in mining stocks to the lowest in more than a decade as market turmoil in China, the biggest consumer of metals, ignites a vicious spiral of tumbling equities and collapsing commodity prices around the world.
The 80-member Bloomberg World Mining Index sank as much as 4.1 percent on Thursday, with Anglo sliding 12 percent at one point to a record low and Glencore Plc down as much as 7.9 percent in London trading. The Bloomberg Commodity Index, a gauge of returns on raw materials, dropped to its lowest level since 1999 as industrial metals and oil declined.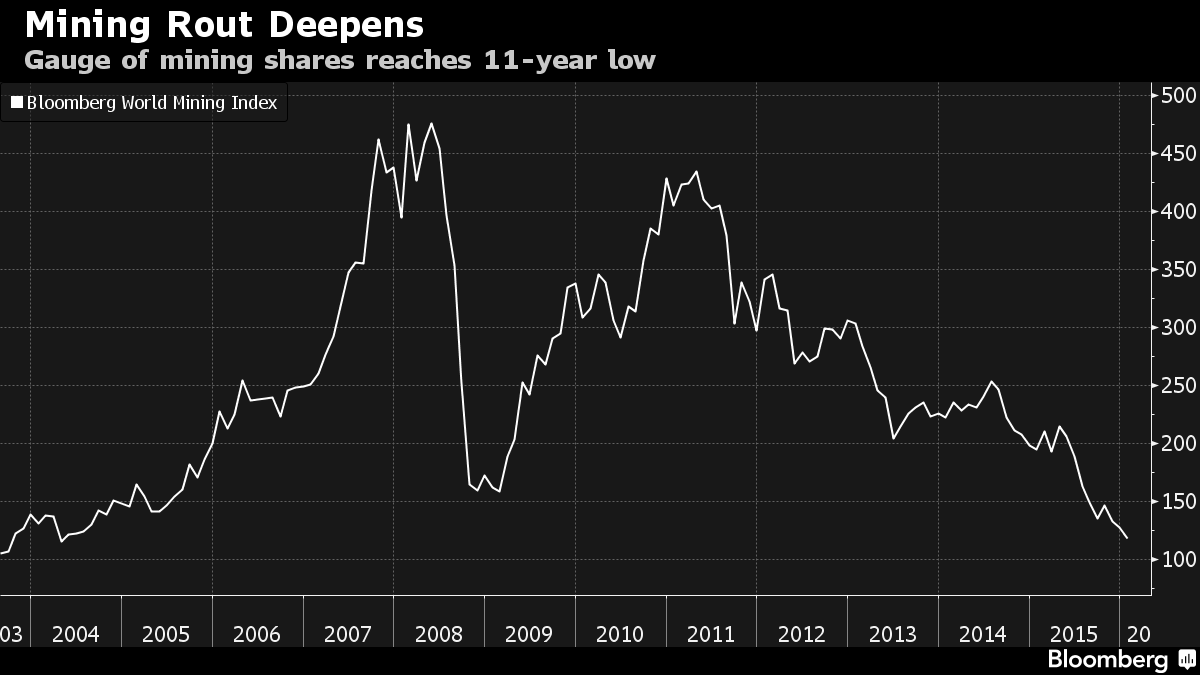 "It's been a brutal start again to 2016 and a continuation, it seems to me, of the fears that characterized the second half of 2015," Paul Gait, a mining analyst at Sanford C. Bernstein Ltd., said by phone. This is "fear around a much more profound and much more significant slowdown in the Chinese economy. Nothing is more levered to the Chinese economy than the commodities space and we've seen the consequence of that."
Miners have been battered by slowing demand in China and gluts in commodities such as copper and iron ore. That forced most to scrap dividends and offload assets, with Glencore among those selling shares to strengthen its finances.
"Commodity prices get sold off because equities are falling, and the mining equities get sold off because commodities are falling," Wiktor Bielski, head of commodities research at VTB Capital in London, said by phone. "It's just the vicious cycle accelerating at a pretty fast rate."
The situation in China has worsened in recent days, with local stock exchanges halting trading Thursday for the second time this week. Equities have tumbled around the world along with raw-material prices as a weakening Chinese currency also fuels fears about the strength of the global economy.
All China
"It's all coming from China," Bielski said. "The only way it's going to be broken is if there is some sort of turnaround from China. I can't see what else is going to do it."
Zinc led declines in industrial metals, falling as much as 4.6 percent to $1,475.50 a metric ton and nearing the lowest level since 2009. Nickel tumbled more than 3 percent, while copper and lead dropped by almost as much.
The Bloomberg World Mining Index of stocks reached the lowest since June 2004, with Anglo American down 10 percent by 12:12 p.m. in London, after touching the lowest since it started trading in 1999. BHP Billiton Ltd., the world's biggest mining company, lost 5.7 percent and Rio Tinto Group fell 4.2 percent in London. Glencore dropped 6.3 percent.
Mining companies' debt securities were also under pressure. Credit-default swaps insuring Anglo American and Glencore's bonds against losses were the worst performers in the Markit iTraxx Europe Index linked to 125 companies with investment-grade ratings.
Anglo American's 750 million euros ($814 million) of bonds maturing in April 2023 fell 4.04 cents on the euro to 62.6 cents, according to data compiled by Bloomberg. Glencore's 600 million euros of securities due in April 2021 dropped 3 cents on the euro to 73.6 cents, the data show.
Source: Anglo Leads Mining Collapse as China Woes Driving Vicious Spiral - Bloomberg