By Allison McNeely at Bloomberg
Corporate Canada is nursing a monumental junk-debt hangover that's unlikely to let up until the end of the year.
Driven by energy and mining industries that leveraged up during the commodity boom, Canadian companies have racked up a record of at least $69.6 billion of high-yield debt, including $61.3 billion of U.S. dollar-denominated bonds, according to Bank of America Merrill Lynch data. That's a 133 percent increase from five years ago, according to Bloomberg calculations.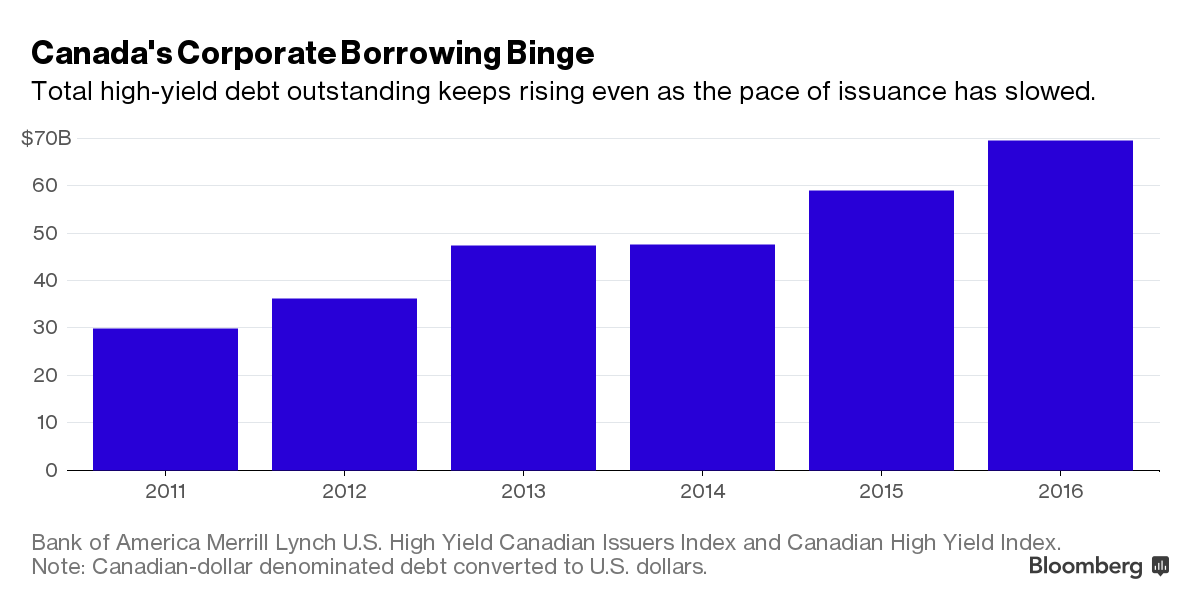 While some commodity prices have rebounded into a bull market, they're still well off their peaks and issuers are expected to be cautious as they continue to repair their balance sheets and gird for less buoyant times ahead. Canadian high-yield issuance in the U.S. market has totaled just $3.55 billion this year, down 56 percent from last year, and down from a peak of $10.1 billion over the same period in 2014, according to data compiled by Bloomberg.
"Issuance dropped off as we've gone through this slowdown in commodity pricing, both on the oil-and-gas side and on the mining side," Glenn Gibson, global head of credit capital markets at Toronto-Dominion Bank's TD Securities unit, said by phone from New York. "There is a pent-up issuance opportunity that we probably are going to see in the back-end of 2016 or certainly into 2017."
Prices Rebound
The biggest issuers on the Bank of America Merrill Lynch U.S. High Yield Canadian Issuers Index are Bombardier Inc. with $7.55 billion in index debt used to help fund its C Series jets; Teck Resources Ltd. with $6.6 billion; and Cenovus Energy Inc., which lost the investment-grade rating on its $4.75 billion in debt in February, when oil was near its low.
Valeant Pharmaceuticals International Inc.'s debt binge to fund its acquisitions over the past few years has also pushed up outstanding debt levels, Thomas O'Gorman, director of fixed income at Franklin Bissett Investment Management, which manages C$5 billion ($3.9 billion) in fixed income, said by phone from Calgary. The drug company issued close to $10 billion in the U.S. market in 2015, which is about one-third of all Canadian high-yield U.S. dollar issuance over the past 2-1/2 years, he said.
As crude oil and metals such as gold and silver recovered this year, investors have piled back into the bonds, picking up significant yield over government debt which wallows near record, or even negative yields. The yield to maturity on Canadian high-yield debt issued in U.S. dollars has dropped to around 8.7 percent from 14 percent on Feb. 15, according to Bank of America Merrill Lynch data. Yields on Canadian-dollar high-yield debt have declined to 8.6 percent from 9.7 percent in the middle of February.
Market 'Dead'
But companies have been hesitant to come to market, with just six deals in the U.S. from Canadian high-yield issuers so far this year and only one in Canada, according to Bloomberg data. Teck's issue has been the biggest with $1.25 billion in two tranches at 8 percent and 8.5 percent coupons. Emera Inc. announced $1.2 billion in high-yield issuance in the U.S. market on June 9.
"The Canadian high-yield market is dead," Franklin Bissett's O'Gorman said. "It's closed."
The Canadian high-yield market started to develop in 2010 and 2011 but faltered after energy prices began to drop in 2014, he said. There's been only one public high-yield bond deal in Canada this year, from DHX Media Ltd. for C$50 million in May, according to data compiled by Bloomberg. Last year, three issuers brought C$830 million to market.
'Sweet Spot'
Robert Brown, co-head of Canada debt capital markets at Royal Bank of Canada's RBC Capital Markets unit, doesn't think the slow down of Canadian high-yield issuance at home means the end of the market.
DHX's bond sale was small but the BBL rating from DBRS Ltd., three levels below investment grade, was right in the "sweet spot" for the market, he said.
"Investors are going to be more selective about funding certain aspects of the high-yield market at this point," Aubrey Basdeo, head of Canadian fixed income at BlackRock Inc., said by phone from Toronto. "It's still going to be open but it's going to be scrutinized more carefully."
(An earlier version of this story corrected issues last year to C$830 million in paragraph before 'Sweet Spot'; clarified that measure in seventh paragraph refers to yields.)
Source: Junk Debt Mountain Higher Than Ever Hangs Over Corporate Canada - Bloomberg