By Michael Lewitt at SureMoney 
Warren Buffett told people last weekend at the Berkshire Hathaway annual meeting that America doesn't need to be great again because it is already great.
He is 100% wrong. Maybe someone has been spiking Mr. Buffett's cherry cokes!
Such empty platitudes are exactly the type of nonsense that will lead us over the cliff unless our political and business leaders wake up and stop borrowing us into oblivion.
Underneath the bullish blather of the past several months, bearish fundamentals haven't changed at all. We are crushed by unsustainable debt on all fronts – corporate, national and global – and the dimensions of this crisis are so overwhelming that Wall Street and the mainstream financial press ignore or dismiss it because it contradicts the phony stability narrative they desperately try to promote. Those who ignore what is going on do so at their own peril. The world is literally borrowing itself to death.
And believe me – Mr. Buffett knows the truth.
Today, I want to give you a comprehensive picture of the debt bubble the world is in – and show you exactly how deep we're buried, and how far we're going to have to dig to get out.
Brace yourself: This rabbit hole is deep.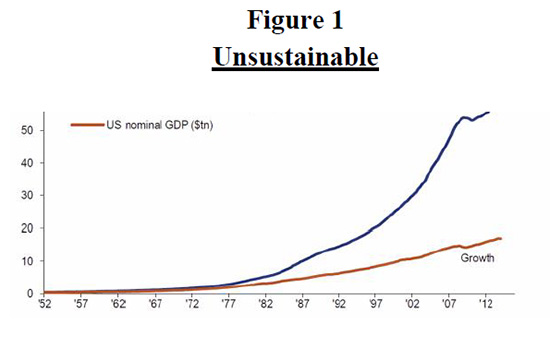 A decade ago, private equity firms engaged in an orgy of mega-buyouts that generated negative nominal and real returns. Several of these deals – Caesars Entertainment, TXU – ended up in spectacular bankruptcies that wiped out billions of dollars of investors' capital. (You can read my analysis of the CZR debacle here, and get my recommendation.)  While few large LBOs are being done today, Corporate America picked up the mantle of borrowing from the private equity industry. Goldman Sachs confirms Mr. Lapthorne's work and goes farther in describing the corruption of corporate balance sheets by pointing out that U.S. corporations accumulated roughly $1 trillion of goodwill during the post-crisis M&A explosion. Coupled with more than $2 trillion of stock buybacks since the crisis, Corporate America spent virtually all of its profits and free cash flow on cannibalistic activities rather than investing in new capital projects, research and development and other productive activities. It now sits on a ticking time bomb of debt that it cannot repay even if interest rates stay suppressed for years to come.
The epic collapses of SunEdison, Inc. (SUNE) and Valeant Pharmaceuticals (VRX), two companies that relied on heavy borrowing and expensive acquisitions to inflate their stock prices and attract hedge funds to their stocks, illustrates the dangers of this approach. I expect VRX to start taking significant goodwill write-downs on the companies for which it overpaid (i.e. Sprout Pharmaceuticals). But that is only the beginning. We can expect to see huge goodwill write-offs across the corporate world over the next few years as companies purchased during a bull market turn out to be worth far less than expected (by their overpaid investment bankers, accountants and attorneys, not by me).
Mr. Lapthorne correctly points out that markets are ignoring this risk. The Office of Financial Research (OFR), an independent group within the U.S. Treasury whose remit is to monitor financial stability, warned in its 2015 annual report that the build-up of non-financial corporate debt is a major systemic risk:
In our assessment, credit risk in the U.S. nonfinancial business sector is elevated and rising…The evidence is broad. Credit growth to the sector has been rapid for years, pushing the ratio of nonfinancial business debt to GDP to historically high levels. Creditor protections remain weak in debt contracts below investment grade. These factors are consistent with the late stage of the credit cycle, which typically precedes a rise in default rates."
Apparently not everyone working for the government is clueless. This warning joins earlier warnings from the Geneva-based International Centre for Monetary and Banking Studies (2014) and The McKinsey Global Institute (2014) pointing to the dangerous accumulation of global debt. The question that must be asked is why the Federal Reserve remains oblivious to the consequences of its failed policies. After all, it's not as though years of zero interest rates and trillions of dollars of quantitative easing led to economic growth; quite obviously they did the opposite. Ben Bernanke wanted to encourage risk-taking by lowering interest rates, but being a professor with no real-world experience failed to understand the difference between risk-taking and speculation. Risk-taking involves engaging in activities that lead to substantive economic gains through the expansion of the productive capacity of the economy. Speculation involves the devotion of capital to unproductive activities based on the expectation that asset prices will either remain inflated or the owners of assets will be able to sell them to the next fool before the ceiling falls in.
As Mr. Lapthorne writes, all corporations are doing is "remortgaging shareholder equity in an attempt to boost short-term share price performance." Corporate America is engaging in an orgy of speculation facilitated by cheap money, bad tax policy, flawed executive compensation schemes and a lack of pro-growth fiscal policies. They are cheered on in this activity by activist investors who are in turn praised by an uneducated and poisonous financial press. The consequences of this are as clear as the nose on your face. Investors don't want to be riding this train when it runs off the rails.
One Good Bet In A World of Risky Debt
Gullible investors, cheered on by clueless or conflicted Wall Street firms, are rushing back into risky debt at precisely the worst possible time. Emerging markets are being buoyed by recent easing moves in India, Turkey, Hungary, Taiwan (all of which cut interest rates) and Singapore (which uses exchange rates rather than interest rates to guide monetary policy). But emerging markets remain vulnerable to any rise in the U.S. dollar and general global economic weakness. Investors are also pouring money back into the high yield bond market on the mistaken belief that the worst is over for leveraged corporate borrowers. As outlined above, this is a poor assumption. The corporate default rate is just starting to spike and hundreds of billions of dollars of defaults will pile up over the next few years. Investing on a broad basis in the high yield market through ETFs and/or mutual funds will prove to be a mistake. There are opportunities in specific bonds as investors throw babies out with the bathwater, but the overall market remains overpriced and unattractive. (You can read my new report on the six people who destroyed bonds as an investment class here.)
Investment grade, Treasuries and other high rated bonds remain a poor bet even if interest rates drop further as they are likely to do as the economy remains weak. The largest bond funds continue to disappoint as zero rates in the U.S. and negative rates abroad render it nearly impossible for traditional managers of high quality debt to generate decent returns. Recently Bill Gross was lauded by Barron's for finally producing a +2% 1Q16 performance after years of poor performance at PIMCO and the Janus Funds. Before that, since taking control of his Janus fund on October 6, 2014, he had produced a puny return of 1.8%, which comes to approximately 10 basis points a month. This may be better than the performance of his old fund, PIMCO's Total Return Fund that lost 1.64% over the same period, but it is still unimpressive. Furthermore, his 1Q16 return was earned by using a significant amount of leverage and derivatives, meaning it is much less impressive on a risk-adjusted basis. In the kingdom of the blind, the one-eyed man is king. Unfortunately, in bond-land there are few kings left standing (Jeff Gundlach being one of the few). Investors will have to look elsewhere for a decent return on their capital.
However, I think that the fallen angel space (fallen angels are bonds that lose their investment grade ratings) looks attractive. On a risk-adjusted basis, fallen angel bonds tend to produce very attractive returns. They rarely default (except in cases of fraud or extreme changes in conditions like the current commodity collapse) and tend to be large companies with significant resources to ride out storms. Investors looking for yield should seriously consider the fallen angel space.
A simple way to play fallen angels is to buy the MV Fallen Angel ETF (NYSEARCA: ANGL).
Source: My 2016 Debt Report - Plus, the One Kind of Debt You Should Buy - SureMoney