U.S. Steel Corp. bonds plunged, sending yields to record highs, as slumping metal prices hinder its efforts to return to profitability after three consecutive quarters of losses.
The Pittsburgh-based company's $600 million in notes due 2020 capped a fifth straight weekly decline, pushing up yields to 20 percent. That's a record 12 percentage points above an index of high-yield debt sold by materials companies. U.S. Steel is the index's worst performer in the past month after Essar Steel Algoma, which filed for bankruptcy protection this week.
"Folks are beginning to question the viability of the business, just given how weak steel fundamentals are," Matt Vittorioso, an analyst at Barclays Capital in New York, said by phone Friday.
The company has repurchased $197.7 million of convertible bonds due in 2019, it said in a filing Friday.
U.S. Steel, the country's second-biggest producer, declined to comment on its bond performance.
The metal extended a plunge this month, trading only $5 above the lowest price seen in the commodity crash following the global financial crisis. Hot-rolled steel coil -- the benchmark form of the metal used in car parts, buildings and appliances -- fell to $387 a ton, the lowest since June 2009. Last week, ArcelorMittal, the world's biggest producer, said global steel consumption will fall by as much as 2 percent in 2015 with only a "slight" improvement in demand expected next year.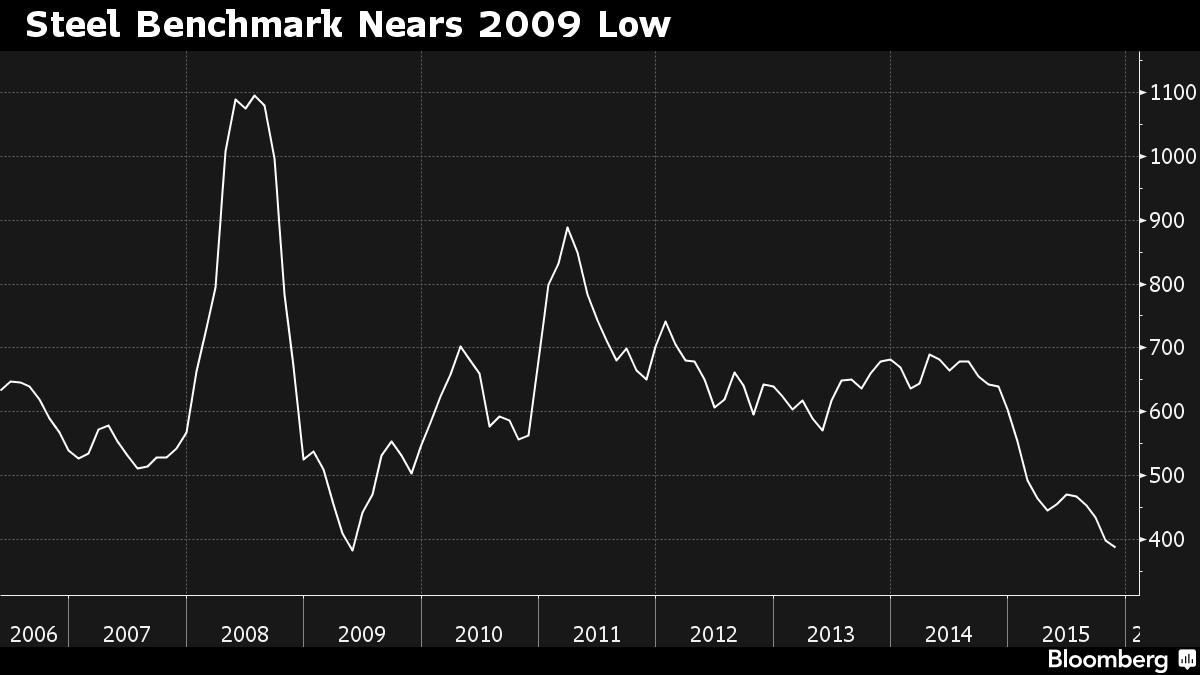 The Bloomberg Commodity Index sank to the lowest since 1999 on signs that government stimulus is doing little to boost growth in China, the world's top metals and energy user. China has failed to pare steelmaking overcapacity, even as the country faces the slowest growth in a generation, Bloomberg Intelligence analyst Yi Zhu said in a note Thursday.
.S. Steel Chief Executive Officer Mario Longhi has spent two years working to streamline the company through an efficiency program labeled the Carnegie Way, after founder Andrew Carnegie. He has idled iron mines and blast furnaces, put the company's unprofitable Canadian subsidiary into bankruptcy reorganization and is permanently replacing high-cost steelmaking capacity in Alabama with a more efficient electric furnace to recycle scrap into new steel.
The company had $1.2 billion cash and $2.9 billion in total liquidity as of Nov. 3, it said in its quarterly earnings announcement.
"The one thing it has going for it is it has a ton of liquidity," Vittorioso said. Even so, "if it just can't make any money, then a restructuring is a real possibility," he said.
http://www.bloomberg.com/news/articles/2015-11-13/u-s-steel-yield-surges-to-20-as-metal-rout-imperils-turnaround