By Bloomberg
Kyle Bass, the U.S. investor known for betting against subprime mortgages, is among famous money managers who expect turmoil in a Chinese banking industry struggling with bad loans. It's in the least-known corners of the financial system that their predictions could start to come true.
Dotted across the country from Harbin in the north to the tropical island of Hainan in the south, China's 134 city commercial banks have multiplied their risks by piling into opaque investment products just as bad loans are rising. Warning signs are flashing at lenders such as China Resources Bank of Zhuhai Co., which posted a 90 percent slump in profit in 2015 after almost tripling loan-loss provisions.
"It's a smoldering bonfire," said Keith Pogson, a senior partner for Asia-Pacific financial services at Ernst & Young LLP. "If the wind changes and inflames it rapidly it could burst into flames quite easily."
City commercial banks are the legacy of a 1990s clean-up of thousands of struggling credit unions, and many of them are vulnerable in part because their fortunes are closely tied to areas suffering the most from China's economic slowdown. While analysts say it's unlikely that the collapse of a small lender would spark a financial panic, the repercussions could be substantial -- from a loss of confidence to disruptions in the interbank funding market.
In June 2013, the failure by China Everbright Bank Co. to repay short-term loans sent interbank borrowing costs soaring to a record. Such shocks can disproportionately hurt smaller lenders who are more dependent on interbank borrowing.
Banks in industrial rust-belt provinces such as Liaoning, Shanxi and Heilongjiang are especially exposed to slumping local economies and struggling industries such as steel and coal. In a sign of the strains, Dongbei Special Steel Group Co. has defaulted multiple times on bonds this year and its chairman, Yang Hua, was found dead by hanging in March.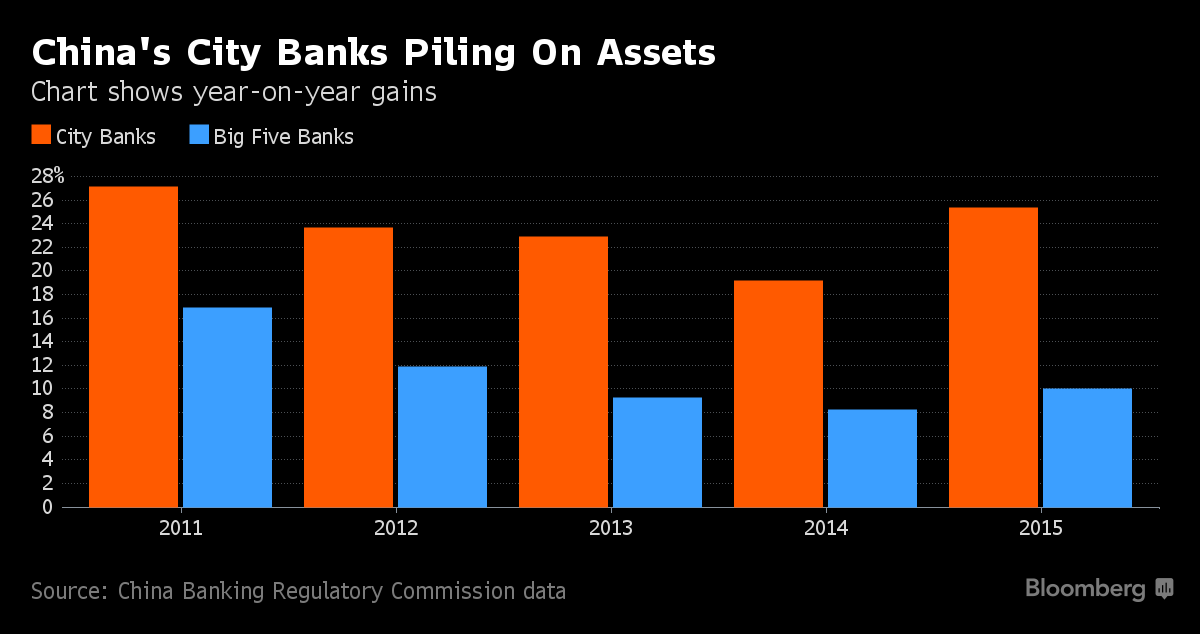 Bank of Beijing Co. and Bank of Tianjin Co. are among lenders to Bohai Steel Group Co., a financially crippled steelmaker in Tianjin, Caixin magazine reported in April. Tianjin's local government asked banks to keep lending to the business as officials, steel executives and bankers jostled over how to handle the collapse, the magazine said.
Bank of Beijing declined to comment and calls to the general phone line for the Tianjin government went unanswered. Calls to Bank of Tianjin went unanswered.
China's city commercial banks emerged from a restructuring of 5,200 credit cooperatives that were staggering under the weight of their bad loans in 1994. While foreign investors including BNP Paribas SA, ING Groep NV and Oversea-Chinese Banking Corp. have invested in some, most are controlled by local governments.
The city banks -- which together hold 15 percent, or $3.6 trillion, of the nation's commercial banking assets -- have jumped into the financial engineering that lets Chinese banks disguise lending by buying "investments" from intermediaries such as securities firms, trust companies or other banks. Assets showing up on banks' balance sheets as financial investments are often backed by loans.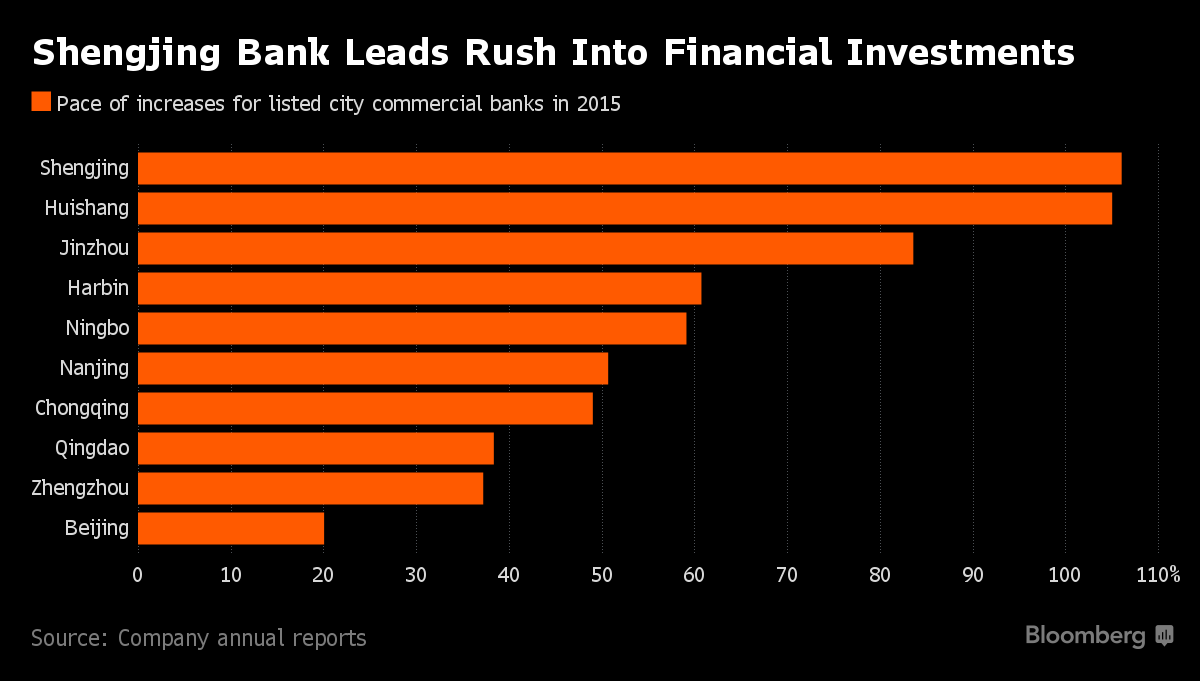 The 10 city commercial banks listed in Hong Kong and the mainland boosted their financial investments by 56 percent to 2.4 trillion yuan ($365 billion) in 2015, according to their annual reports. That's almost triple the pace of increases at the four biggest state-owned banks. By the end of last year, after a two-year spree, the bulk of Bank of Jinzhou Co.'s assets were classified as financial investments rather than loans. Bank of Jinzhou declined to comment.
'Liquidity Problem'
"A small bank may face a liquidity problem if their investments are in default and that will trigger a domino effect," said Patricia Cheng, a Hong Kong-based analyst at brokerage CLSA Ltd. "Any failure of a financial institution will hurt sentiment and the psychological effects just can't be quantified."
The rise of financial investments could be a sign that lenders are sidestepping regulators' restrictions on extending credit to risky real-estate projects or industries saddled with overcapacity, such as coal, steel, cement and glass, according to Moody's Investors Service. Adding to the perils, local-government ownership of smaller banks makes them vulnerable to pressure to lend to officials' pet projects.
'Bottom Tier'
"City commercial banks are the bottom tier of China's banking system and they're polarized in quality -- you can have quality lenders like Bank of Beijing and Bank of Shanghai that are as good as big banks, as well as those way below par in everything from management capability to risk control," said Wei Hou, a Hong Kong-based analyst at Sanford C. Bernstein & Co.
In the south, Bank of Liuzhou Co.'s bad loans surged 154 percent in 2015, with China Business Media reporting in February this year that a borrower had fabricated documents and set up shell companies to steal 30 billion yuan from the lender. China Resources Bank of Zhuhai cited a slower economy as its bad loans jumped 70 percent last year. The lender's investment receivables -- a category that can include disguised lending -- had climbed 35 percent. The Liuzhou bank declined to comment. Calls to the Zhuhai lender went unanswered.
In Hebei province, Bank of Cangzhou's bad-loan buffer -- the amount set aside for future soured loans versus existing levels of nonperforming credit -- shrank to 194 percent by the end of 2015 from 488 percent a year earlier. One of the bank's largest shareholders is also its single largest borrower, according to its annual report. Calls to the lender went unanswered.
"There is no doubt that small city banks are the weakest link in China's banking system," said Mu Hua, a Guangzhou-based analyst at GF Securities Co. "The concentration of their business in the home town means that they are more reliant on the local economy and government support than anybody else."
Source: 'Smoldering Bonfire' Shows Where Kyle Bass May Be Right on China - Bloomberg