By Luke Kawa at Bloomberg
As crude oil continues to rip higher—it's currently in the midst of its best three-day performance since January 2009—analysts at Barclays highlight one reason why this rally could prove to be short-lived.
Resilience in U.S. shale production and supply increases from members of OPEC have left global oil markets in a prolonged state of surplus.
Earlier in the year, this oil surplus was relatively easy to spot in the form of rising U.S. inventories.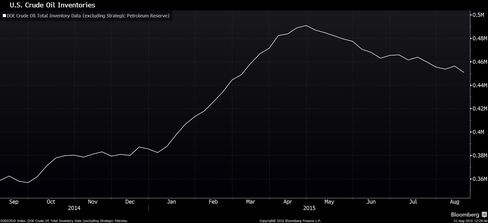 But with U.S. crude stockpiles trending downward since late April, a new glut has emerged, according to Barclays.
"The surplus in the petroleum market is increasingly evident in refined products," says the team led by commodities analyst Miswin Mahesh. "Global refinery throughput touched a record high of 80.6 million barrels per day in July, with utilization rates at the highest in eight years."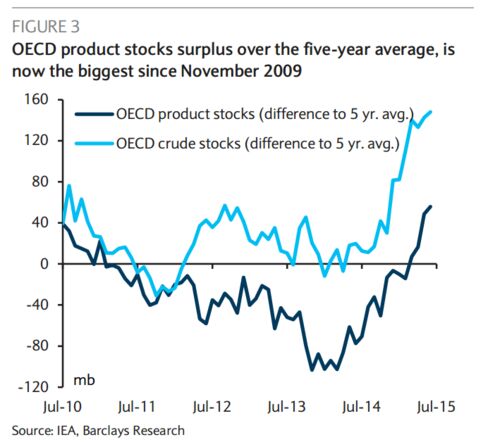 This product glut is less intense than the crude surplus and took a little longer to materialize, as elevated crack spreads and heavy demand for gasoline prompted refiners to run on full blast.
Elevated refinery margins and a steep contango structure in the oil futures curve that created incentivizes for traders to lock in profits by engaging in storage arbitrage were two key sources of demand for crude that helped pull WTI crude off its March lows. The gap between the spot price and the 12-month futures contract has proceeded to narrow since then, effectively eroding the profitability of the storage trade.
And with refiners heading into the traditional fall period of scheduled maintenance, this global source of demand for crude is poised to wane by 2 million barrels per day in September and by 2.7 million barrels per day in October, according to Mahesh. This development could cause worries about U.S. storage tanks getting filled to the brim to reemerge unless crude output is suitably curtailed as refineries go offline.
"If supply does not adjust swiftly by then, crude stocks could swell faster again," writes Mahesh. "To a certain extent, as the market trades the shoulder month contracts, these expectations are getting priced in."
Barclays is sticking with its call that oil prices will rise by year's end as the supply-demand imbalance eases, while cautioning that higher than anticipated refinery maintenance, a slowdown in China, continued strength in the U.S. shale industry, increased supply from Iran, and a U.S.-dollar rally together constitute a long list of notable risks to its forecast.
Source: Barclays: There's a New Oil Glut in Town - Bloomberg Business