By Luke Kawa at Bloomberg
The net addition of just 38,000 jobs in May wasn't the only underwhelming aspect of the nonfarm employment report released Friday morning.
During an interview on What'd You Miss?, Bloomberg's Matthew Boesler highlightedthree charts showing some of the details from this report that were just as poor as the headline figure.
Construction employment losing momentum
The annual rate of job growth in the construction sector is slipping: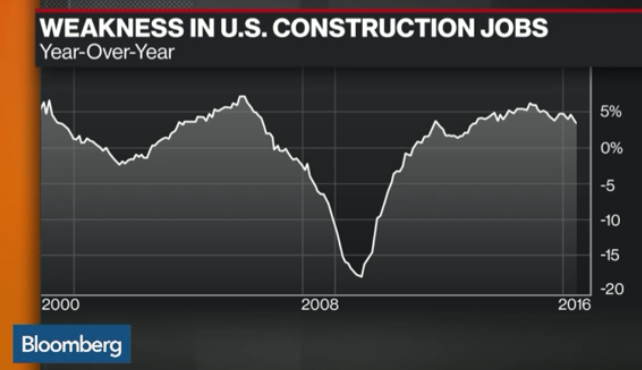 As housing is a nontradable good, activity and employment in the sector offer a particularly clean read on the state of the domestic economy. This now marks back-to-back months of job declines in the construction industry following revisions to April's report.
Full-time work losing ground
The share of workers employed full time fell on an annual basis for the first time in three years: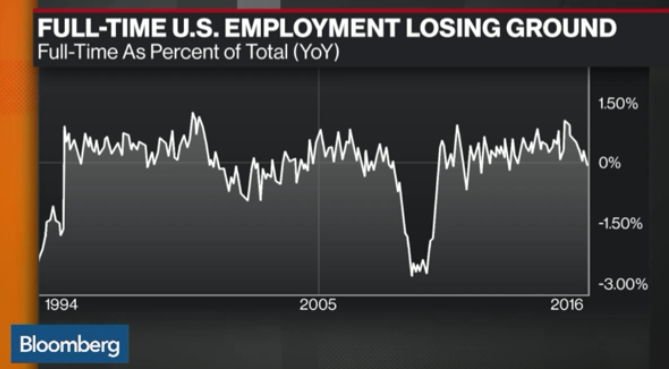 This comes as the number of people working part time for economic reasons experienced its largest one-month percentage gain since 2012.
Temporary job growth flatlines
Another piece of the job picture heading in the wrong direction is temporary employment. The rate of growth of temporary employment decelerated to 0.6 percent year over year, its lowest level since 2010: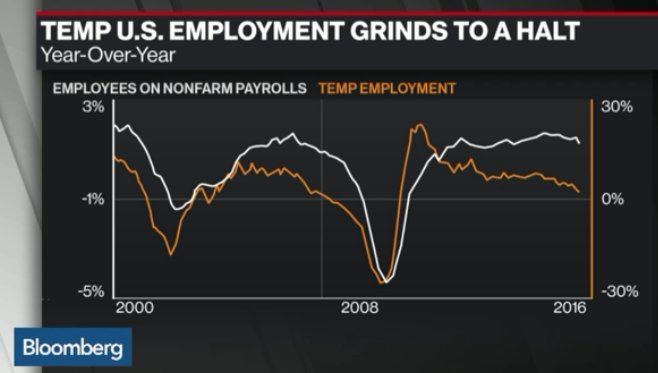 If one presumes that temporary workers are a leading indicator—in the sense that employers tend to shy away from the use of this more flexible source of labor before handing out pink slips—then this chart paints a particularly disquieting picture.
Source: Three Charts From Friday's Jobs Report That Are Ominous for the U.S. Economy - Bloomberg