By Kana Nishizawa, Yuko Takeo & Anna Kitanaka at Bloomberg
Asia's two biggest stock markets are jostling for an ignominious prize.
Japan's Topix index and China's Shanghai Composite Index have tumbled more than 13 percent in 2016 to rank along Nigerian and Mongolian shares as the world's worst performers. In the two years through the end of December, the Asian gauges outperformed MSCI's global measure by at least 20 percentage points. The Bank of Japan stood pat on monetary policy Thursday, sending Tokyo stocks tumbling, while the Shanghai measure fell to a one-month low.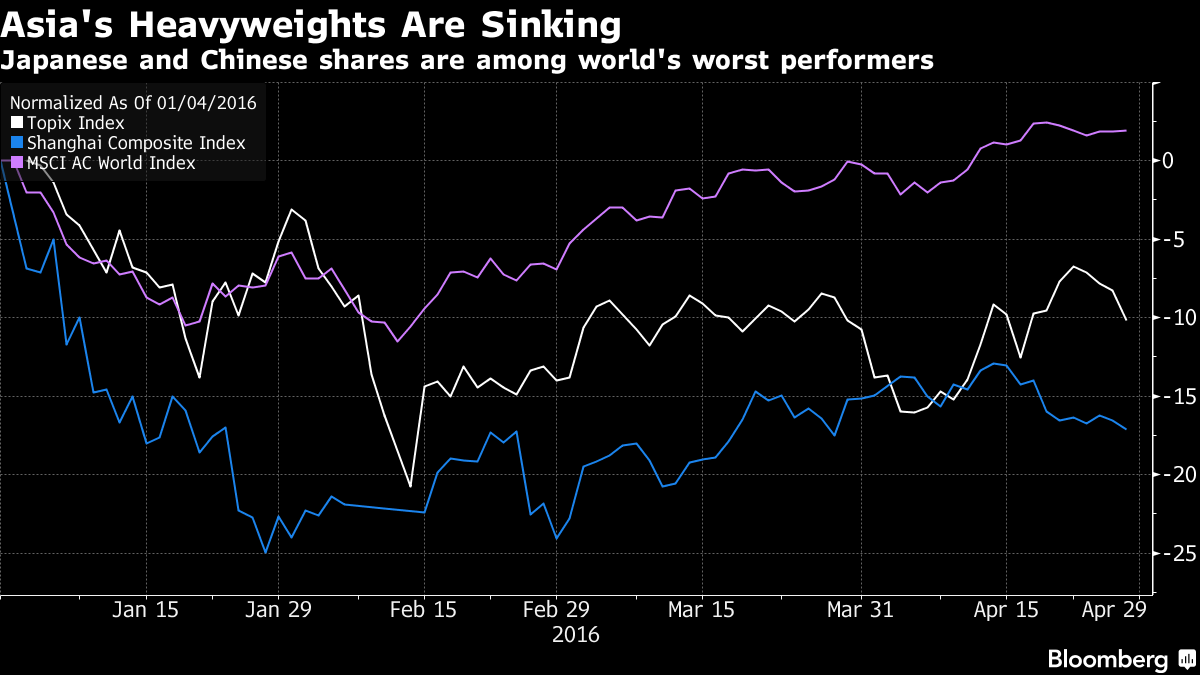 The benchmark gauges in two of the world's largest stock markets, which have a combined value of almost $11 trillion, are declining as investors detect a reduced appetite from policy makers to boost monetary stimulus. Thursday's BOJ decision was the first under Governor Haruhiko Kuroda where a majority of economists expected easing that didn't materialize, while strategists now see China's central bank keeping its main interest rate on hold until the fourth quarter.
"Neither China nor Japan have a solid plan on dealing with their slowing economies," said Tomomi Yamashita, a fund manager at Shinkin Asset Management Co. "There is still scope for easing, and as for Japan there are fiscal policies they can carry out. There's still hope. But today there was just too much hope on the BOJ."
BOJ Decision
The Topix sank 3.2 percent on Thursday after the central bank kept bond-buying, interest rates and exchange-traded fund purchases unchanged. The stock gauge has fallen for four straight days, handing losses to foreign investors who piled the equivalent of $4.9 billion into the market last week, the most in a year. Overseas traders were net sellers of Japanese equities for the first 13 weeks of 2016.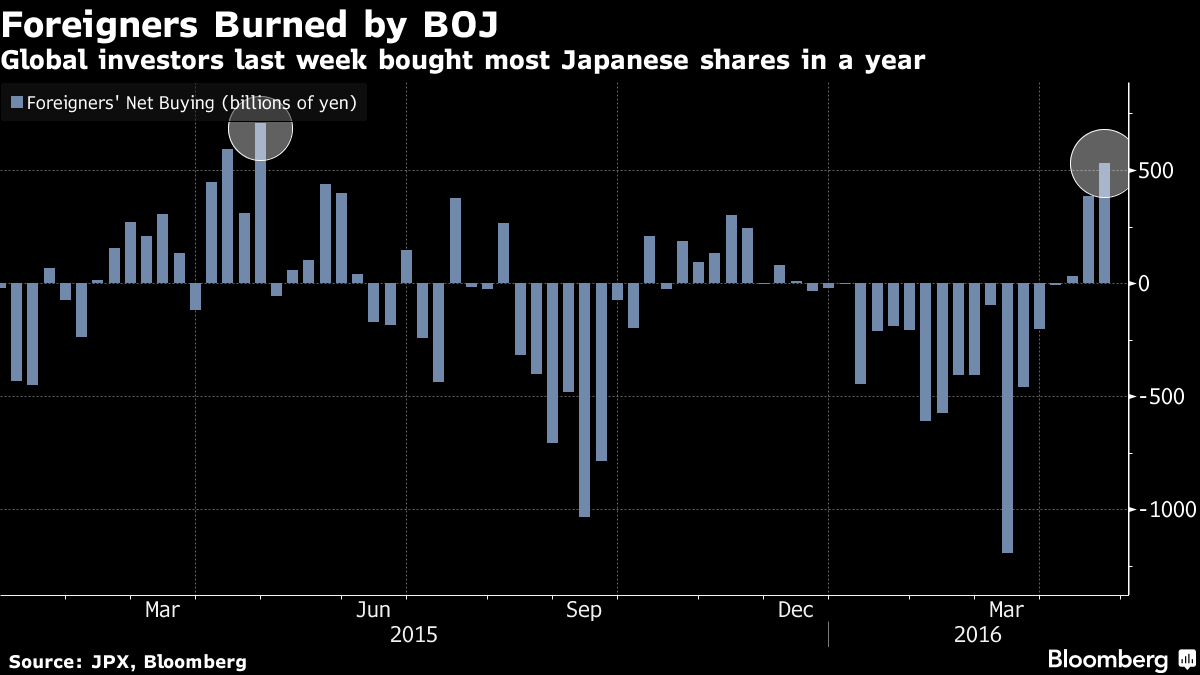 "I give up," Ryuta Otsuka, a strategist at Toyo Securities Co. in Tokyo, said by phone after the BOJ decision. "It's a really disappointing result and I feel like throwing in the towel. It cuts because we had so much hope."
The Topix posted four straight annual gains through 2015, while even a $5 trillion rout in Chinese shares last summer couldn't stop the Shanghai Composite from being the world's top-performing major market over the last two years. The declines for both gauges in 2016 compare with a 2.5 percent advance by the Standard & Poor's 500 Index, which is closing in on last year's record.
Mean Reversion
"We have gone through periods where those two markets have done very well in recent years so there's always mean reversion with outperforming markets taking a backseat for a while," said Shane Oliver, head of investment strategy at Sydney-based AMP Capital Investors Ltd., which oversees about $120 billion. Over a longer period both China and Japan's stock markets have had lengthy stints in which they've disappointed investors, he said.
The Shanghai Composite lost 0.3 percent on Thursday, and is heading for its third monthly loss this year. The benchmark index is down 17 percent in 2016, the most among global gauges, after rallying 67 percent in the previous two years.
The yen surged 2.9 percent to 108.31 per dollar as of 4:53 p.m. in Tokyo, heading for its biggest daily advance since August, when China's surprise devaluation of the yuan whipsawed global markets. Japan's currency has strengthened more than 10 percent against the greenback this year, even after Kuroda moved interest rates below zero in January.
"Japan has an issue with a very strong yen," said Khiem Do, the Hong Kong-based head of multi-asset strategy at Baring Asset Management. "China's underperformance is expected. There's concern still over the strength of the renminbi and concern real rates are still too high. Japan is a surprise. We didn't expect the yen to reach 108."
Source: Asia's Market Giants Turn Into $11 Trillion Headache for Traders - Bloomberg