by Luke Kawa at Bloomberg
Surveys conducted by regional Federal Reserve banks signal that U.S. manufacturers came under severe stress in September.
Seven of these surveys have been released over the course of the month, and only one, the Dallas Fed Manufacturing Index, has exceeded economists' expectations.
All these regional surveys pointed to shrinking manufacturing sectors, with some prints coming in at their worst levels since the Great Recession: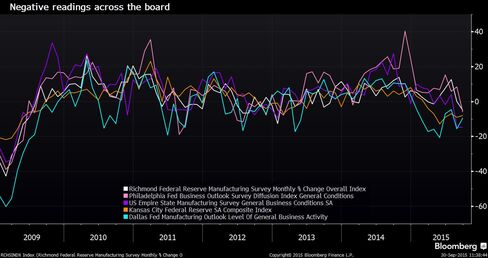 The Empire State manufacturing index earlier this month indicated back-to-back months of contraction, with the employment sub-index and six-month forward outlook hitting multiyear lows. In part due to a market retreat in new order volumes, the Richmond Fed's Manufacturing Survey posted its lowest reading since the start of 2013. The Kansas City Fed's index has been stuck in negative territory since March, with new orders, shipments, employment, and exports all declining in September.
On Wednesday, two regional indices confirmed that the pain is widespread.
The ISM Milwaukee Purchasers Manufacturing Index sank to its lowest level since 2009 with a reading of 39.44, with new orders declining at a more precipitous rate than in August's reading: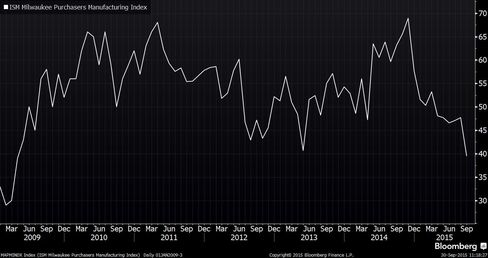 Meanwhile, the MNI Chicago Business Barometer Report dipped into contractionary territory at 48.7, with new orders and production falling: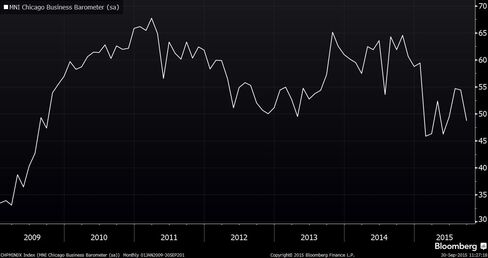 This softness in the sector came amid another upward move for the Fed's U.S. trade-weighted broad dollar index, which hit its highest level since 2003 during the month. A loftier dollar makes American manufactured goods less attractive to foreign buyers.
We'll get more data as on Thursday, when two national surveys on the state of the U.S. manufacturing industry, the Markit PMI and ISM PMI, are slated to be released. The consensus estimate is for these surveys to come in at 53 and 50.6, respectively.
Neil Dutta, head of U.S. economics at Renaissance Macro, doesn't believe the weakness in some of these regional surveys indicate for certain that September's national surveys will come in below 50, a level that would suggest the sector has shrunk.
"What is important to note is that Chicago has been a fairly poor indicator of the direction of the ISM, particularly, over the past few months giving the market false signals," he wrote. "The market is positioned now for a fairly weak ISM report, which we think could be on the wrong side of the risks."
The good news in all this? Manufacturing isn't nearly as big a part of the U.S. economy as it once was, and all indications are that services sectors are still humming along at a robust clip.
But given that the national PMI indexes tend to have a pretty tight correlation with gross domestic product growth, any weakness in the nationwide manufacturing indexes will likely prompt concern that the U.S. economic expansion is reaching its best-before date.
Source: America's Manufacturers Got Crushed in September - Bloomberg Business