By Juan Pablo Spinetto at Bloomberg
Vale SA, the world's biggest iron-ore and nickel miner, reported a decline in quarterly earnings as slumping prices overshadowed efforts to focus on higher quality deposits and cut costs.
Third-quarter adjusted earnings before interest, taxes, depreciation and amortization fell 15 percent from a year ago $1.88 billion, the Rio de Janeiro-based company said Thursday in a statement. That compared with the $1.86 billion average of 11 dollar-based estimates compiled by Bloomberg. On a net basis, Vale had a loss of $2.12 billion on currency and derivative losses.
Vale is producing more higher-quality iron ore and halting some of its most expensive output to navigate an oversupplied market that sent prices of the steel-making ingredient down more than 70 percent from a 2011 peak -- all as China's slowdown erodes margins at its base metal business.
The company is betting an expansion of its Carajas complex in northern Brazil, its biggest project ever, will trim costs further, allowing the producer to boost market share and offset the effect of lower prices. The venture is 75 percent complete, Vale said Thursday.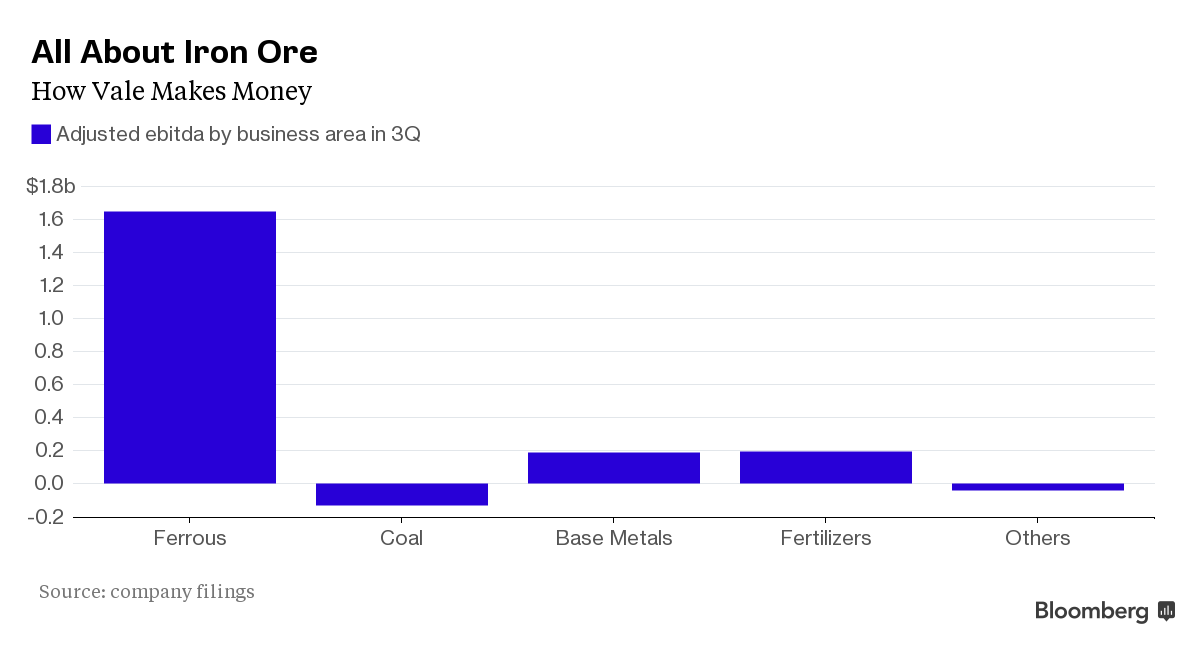 Vale posted "a reasonably good underlying result, within the context of a weak pricing environment," David Gagliano, a New York-based analyst at BMO Capital Markets, wrote in a note Thursday. "At a project level, the company appears to be making some headway."
'Subdued' China
Shares gained 0.6 percent to 14.83 reais at the close in Sao Paulo on Thursday, trimming a decline in the past 12 months to 36 percent.
The Brazilian miner sold its iron-ore fines at an average $46.48 a wet metric ton, down from $68.02 a year earlier. That exceeded the $45.50 average of eight analyst estimates compiled by Bloomberg.
Sales prices declined in line with lower global steel output, with China's steel consumption "subdued" by real-estate weakness, the Brazilian company said in the statement. The outlook for Chinese property sales is improving along with credit conditions, setting the stage for global steel recovery in 2016, it said.
Selling prices for nickel slumped 40 percent on the year, leading to a 75 percent drop in the ebitda of Vale's base-metals in the quarter.
While Vale faced a "very severe decline" in nickel and copper prices on China's deceleration and a "very volatile" exchange rate in Brazil that boosted debt costs in local currency, its costs of production continue to decline, Chief Financial Officer Luciano Siani said.
"The company itself is becoming ever more competitive, with the lowest cash cost in the industry," he said in a video posted on the company's website.
The more than 20 percent decline of the Brazilian real in the third quarter prompted a foreign exchange and swaps losses of $6.22 billion while the company also recorded a $530 million loss on the hedge of the bunker oil used to ship the ore. Vale's capital expenditures were $1.88 billion in the quarter, while net debt fell by $2.3 billion to $24.2 billion.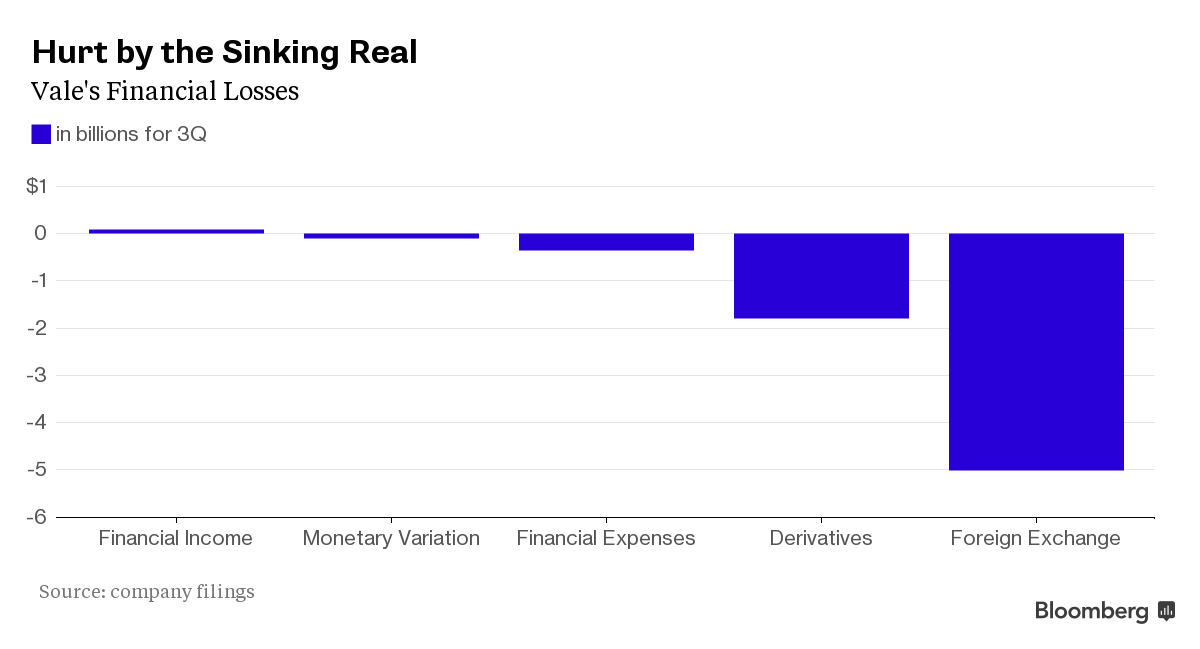 "Lower iron ore and base metals prices should weigh on the company's earnings in 2016 and 2017, ultimately jeopardizing cash flow generation and stretching the balance sheet," Credit Suisse Group AG analyst Ivano Westin said in a research note Tuesday.
On Monday, Vale posted record iron-ore output for the third quarter thanks to higher production at Carajas, while it shuts down less efficient operations elsewhere in Brazil. Production of nickel and copper missed analysts' estimates amid shutdowns in Canada.
Source: Vale Earnings Slide as Metal Meltdown Blunts Cost Cutting - Bloomberg Business