The current stock market melt-up hardly qualifies as limp. Even the robo-machines and hyper-ventilating day traders apparently recognize that their job is to tag the May 2015 highs and then get out of the way.
So when and as they complete their pointless mission, the question recurs as to why the posse of fools in the Eccles Building can't see that they are inflating one hellacious financial bubble; and that when it blows it will deconstruct their entire 7-year project of make-pretend recovery.
In fact, if it weren't for the monumental pain and suffering the next bubble collapse will bring to main street, you might even be tempted to urge them on toward the Wile E. Coyote moment just ahead. After all, if 84 straight months of ZIRP and $3.5 trillion of fraudulent debt monetization (QE) brings nothing more than another thundering financial collapse, it will be curtains time at the Fed.
And here's why they can't duck the blame this time with tall tales about a global "savings glut" causing lax underwriting in the mortgage market, or the lack of transparency on Wall Street balance sheets.
The fact is, stock prices are just plain nuts and the evidence is all there in plain sight. And so are the intense and manifold economic headwinds arising from all around the planet-----to say nothing of the advanced age of the US business cycle.
At this point, 75% of S&P 500 companies have reported Q3 results, and earnings are coming in at $93.80 per share on an LTM basis. That happens to be 7.4% below the peak $106 per share reported last September, and means that the market today is valuing these shrinking profits at a spritely 22.49X PE ratio.
And, yes, there is a reason for two-digit precision. It seems that in the 4th quarter of 2007 LTM earnings came in at 22.19X the S&P 500 index price. We know what happened next!
Actually, we also know that the warning signs were then everywhere, but they were ignored by the Fed and Wall Street's "goldilocks" infatuated traders alike. In fact, S&P earnings had peaked at $85 per share in the June 2007 LTM period and were already down to $66 by the fourth quarter.
Even the so-called ex-items or "operating earnings" were down by nearly 10% from their June 2007 peak of $91.50 per share. But that did not slow down the sell-side hockey sticks one bit. By year-end 2008, earnings were supposed to have turned around, marched back up the hill and posted at $115 per share or 25% higher.
As it happened, of course, ex-items earnings in 2008 came in at $49 per share or half the Wall Street hockey stick level. Indeed,  the kind of honest GAAP earnings that you don't go to jail for filing with the SEC actually posted at $15!
So here we go again. Notwithstanding the fact that S&P 500 earning have been falling for nearly a year, the Wall Street sell-side sees nothing but sunny skies ahead. Projected ex-items earnings are riding that patented hockey stick at nearly a vertical plane of ascent and are estimated to come in at $127 per share for 2016.
Now that's nearly 20% higher than the current quarter.
But, hey, there is purportedly no reason to sweat the small stuff. Why by the lights of Wall Street, a 16.5X forward PE multiple is par for the course. And since the Fed's back on hold and China's Beijing bosses have stabilized the Shanghai index, what could possibly go wrong?
How about nearly everything, and it doesn't take a macroeconomic crystal ball to grasp why.
In the last two days we posted the latest data on two crucial markers of global economic direction-------export shipments from Korea and export orders coming into the high performance machinery factories of Germany.
In a word, they were abysmal, and smoking gun evidence that the suzerains of Beijing have not stopped the implosion in China, and that their latest paddy wagon forays-----arresting the head of China's third largest bank and hand-cuffing several hedge fund managers including the purported "Warren Buffett" of China----are signs not of stabilization, but sheer desperation.
So it is not surprising that Korea's October exports-----the first such data from anywhere in the world---were down by a whopping 16% from last year, and have now been down for 10 straight months. Needless to say, China is the number one destination for Korean exports.
Likewise, German export orders plummeted by 18% in September, and this was no one month blip. For the first nine months, overall new orders dropped 1%, but the composition tells the real story. That is, while domestic orders rose 2%,export orders from outside the Eurozone dropped 7%.
In short, the global CapEx depression emanating from the collapse of the Red Ponzi in China is gathering steam. This means that profits in the global commodities, capital goods and manufacturing sectors are not going to be bouncing back at any time soon. They have just begun their descent, and they are going to take high paying jobs and supply chain activities with them.
The gathering global commodities and CapEx depression also means that the dollar is going to continue rising. That's because the trillions of off-shore borrowings in China and throughout the EM amounted to a giant dollar short.
But now the scramble is on to make interest payments and loan repayments-----a scramble which will intensify as EM exchange rates fall. This has been described as QT or Quantitative Tightening, and that's exactly what it is. Central banks from Brazil to South Africa, Indonesian, Malaysia and China are being forced to tighten financial conditions to stem capital flight.
Stated differently, the global economy has been on a credit binge for the past two decades. Since 1994, total credit market debt outstanding has soared from $40 trillion to $225 trillion or by nearly 4X the growth of GDP during the same period.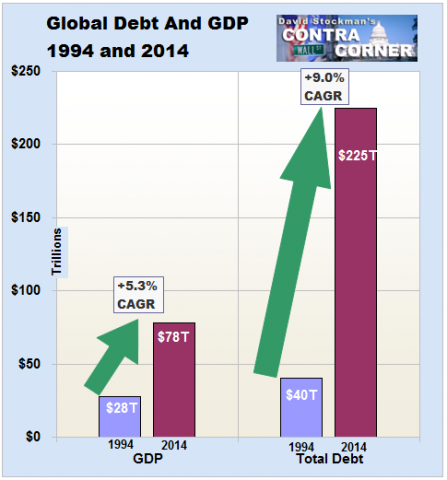 But now this debt super-cycle has crested, and that's exceedingly bad news for profits. Current historically aberrant profit levels are an artifact of excess demand fueled by the credit bubble; it resulted in massive windfall rents on temporarily scarce energy and raw materials and abnormally high margins on consumer and industrial goods where capacity strained to keep up with rising sales.
The world economy is now plunging into deflationary payback time, however. After two decades of central bank financial repression and an abundance of cheap capital, there has been over investment and malinvestment in almost everything--------from iron ore mines to luxury auto assembly plants. That means an era of shrinking margins and deficient profits lies ahead, not the Wall Street hockey stick.
It also means a cycle of debt contraction and mounting credit losses as a deflationary economy collides with record levels of corporate leverage--------both domestically, as shown below, and especially in the EM corporate sectors.
Among other things the unfolding credit reversal will cause what has been a massive diversion into financial engineering of corporate cash flow and balance sheet capacity to slow sharply. This occurred quite dramatically last time around, and means that the single largest bid for equities-----the C-suites of corporate America------will once again fade.
It goes without saying that PE multiples are destined to shrink------not remain suspended at all time highs------in a deflationary world where profit margins are falling and artificial credit-fueled demand for equities has evaporated.
No wonder even the robo-machines have no conviction about 22.49X.